In 1918, the Farmington Township High School was built in Leeper, PA. Elgin Sloan supervised construction from nearby Shippenville, PA. This early photo captures horse drawn "school busses" and students in front of the new school.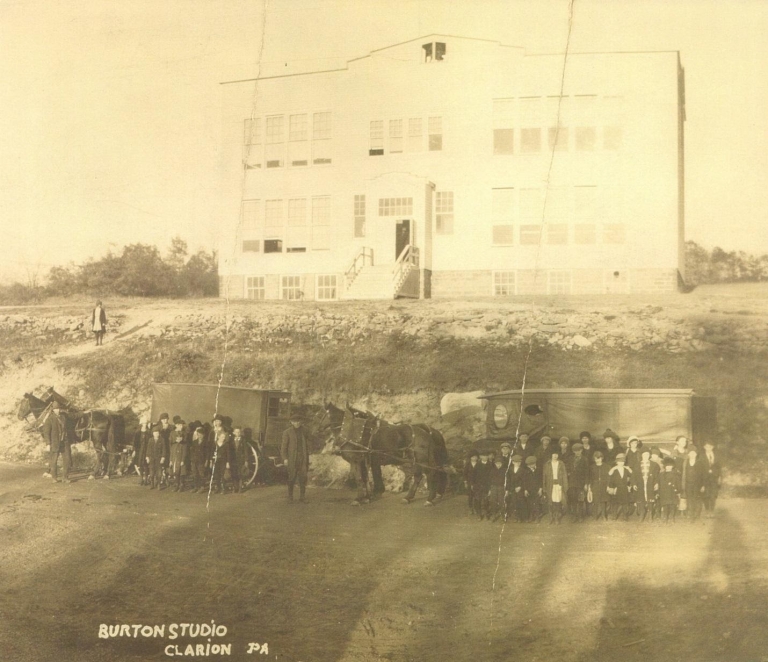 The gymnasium/auditorium was built beside the school shortly after.
Those who played basketball for Farmington were known to have a distinct advantage over the competition because the court's roof was lower than usual. This meant the rafters often blocked the opponent's high shots.
Following the closure and razing of the main school building in the late 1960s, the two buildings behind the school were bought by the the Methodist Church, where they remained until 1985. Three generations of the Kahle family attended mass on this site.
In 1985, Dave bought the church buildings, and began construction of the Kahle's Factory.
In 1995, Kahle's purchased the old gym structure from Pennstyle/Carmate. Today, it currently houses the Kahle's Kitchens showroom, molding shop, and custom shop.
Here is an image of the auditorium from a 1927 yearbook. Dave Kahle's office is currently located where the 1926 touring Model-T is parked. The newer photo shows Dave Kahle's Model-T in the exact same spot today.
Interestingly, Kahle's currently manufactures reproduction spokes, steering wheels, body blocks, floorboards, firewalls, and coil boxes for Model-T Fords.
Through all of the the years and additions, the original layout of the buildings can still be seen on our Factory Tour.
We welcome you and your family to schedule a tour anytime.
– Dave Kahle