Finish Steps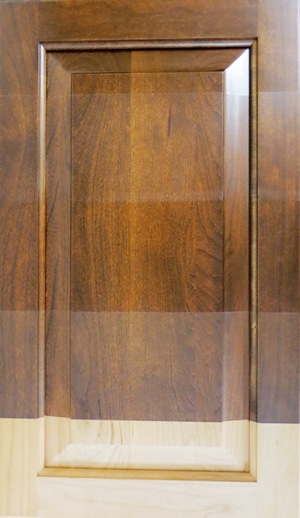 Kahle's Kitchens finish department integrates state-of-the-art equipment and processes.  Our in-house tint room provides us with freedom to create, develop, and replicate customized colors and finish techniques.  Kahle's standard palette contains 117 stains, 5 semi-opaque finishes, 15 paint colors, 7 glazes, 3 sheen levels, and a myriad of sanding and distressing combinations.  Custom color matching is always available if you don't see exactly what you're looking for.  Whether you choose a color that Kahle's has offered for years or one created just for you, you can be assured that our durable finish is designed to protect your cabinetry through many years of natural household use.
Wood Selection – Kahle's purchases the highest grade of lumber available.  The wood is then hand selected for color and grain pattern uniformity.
Getting finish where it needs to be – Kahle's component parts are designed and engineered to allow finish materials to penetrate and protect where needed.  Door style profiles are beveled to allow finish to flow underneath exposed areas to create a protective barrier.  Most door center panel raises are stained prior to door assembly.
Hand sanding – After machine sanding, all parts to be finished are meticulously hand sanded on down draft tables, eliminating as much residual dust as possible.  Cross grain marks are removed providing a uniform stain platform.
Toner stain – A number of Kahle's stains are achieved through the use of a toner.  Toner is a spray pigment applied to help maintain color consistency and uniformity.  At Kahle's, a toner stain is always followed by a hand rubbed stain.
Hand rubbed stain – Stain is carefully hand applied and then hand wiped and rubbed to accentuate the beauty in the innate grain of the wood.
Color consistency – Company retained standards are maintained and each job is checked against them to guarantee color consistency.
Seal coat – A catalyzed clear varnish seal coat, specially formulated for moisture resistance, is hand sprayed on individual pieces, one at a time.  Special attention is given to areas such as end grain where additional coverage may be necessary to properly seal against moisture.
Curing – Sealed items are placed into a high heat oven room to cure completely.
Sealer sanding – Upon curing, the sealer is hand sanded to remove raised wood grain which develops when the sealer is applied.  The hand sanding performed here provides a smooth surface ready to accept a top coat.
Dust removal – Air and "tack" cloths are used to remove fine dust particles which develop during the sanding process.
Topcoat – A layer of environmentally friendly catalyzed varnish topcoat is hand applied.  Kahle's topcoat contains built in ultraviolet inhibitors to minimize fading or "yellowing".  Along with revealing a silky smooth feel, Kahle's topcoat has been formulated to provide maximum resistance to dents, scuffing, moisture, and mild cleaning agents.
Final cure – Topcoated materials are quickly moved into a high heat oven room to cure, completing the chemical cross linking that is needed to ensure one of the most durable finishes in the industry.
Finish room inspection – When moved from the finish room to a staging area, each component is inspected for color and finish quality.
Final inspection – A final inspection is performed on all finished products.  Each cabinet and accessory is inspected and hand polished for a guaranteed smooth finish.
Note:  Please note that the above steps are applied to most finishes.  Painting, glazing, distressing, etc. adds to or modifies the above step accordingly.  For further questions, please feel free to contact your local dealer or sales representative.